When is it Time for an Inspection?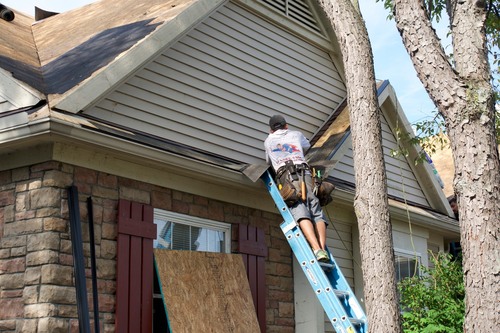 When is it Time for an Inspection?
Do you have broken or missing shingles on your roof?
Is moss or lichen starting to grow on your roof?
A yearly roof inspection is easy to overlook, but once a year you should take a good look at your roof and pay attention to any problems you find.
Here are a few things to note when looking at your roof:
Cracked caulking or rust spots on flashing
Shingles that are buckling, curling, or blistering.
Missing or broken shingles
Moss or lichen growth
Keep the age of your roof in mind. The older your roof gets; the more maintenance will be required. Any loose, damaged or missing shingles should be replaced immediately.
What is safe for you to do?If you notice damage on your roof, you may want to see what you can tackle on your own. Depending on your comfort level, there are a few tasks you can take on.
Moss removal: best practice for moss removal starts in the fall. Apply a moss killer intended for roofs and, in the spring, take a broom to remove the remaining dead moss. This task is fairly simple and can be done if you're comfortable with heights
.
Maintenance Check: Don't feel safe climbing onto your roof? Walk around your home and take note of any new developments to your roof. Pay close attention to anything out of the ordinary so you can take care of it before it becomes a real problem.
Checking for Leaks: Notice any dark areas showing up on your ceiling? This could mean you have a leak. Dark areas on the ceiling, peeling paint, damp spots along a fireplace, and water stains on your heater or furnace are signs that your roof may have a leak. If you notice these signs, you should call a professional for an assessment.
Time to Replace: If your roof is fifteen years or older, it may be due for a replacement. Replacements should be done by professionals. Replacing your roof not only ensures lower lowers the risk of damage and wear, but also increases the value of your home.
Top Rated Roofers in Ann Arbor Provide Peace of Mind
If you notice changes to your roof that you're unsure about, it may be time to call in a professional. Working with top rated roofers in Ann Arbor ensures you're getting high quality work done on your home.Don't settle for less. If you think your roof needs minor maintenance or a professional assessment, contact us at (734)662-3300. We provide a free estimate so you know how to move forward.