Tips for Handling Unexpected Roofing Issues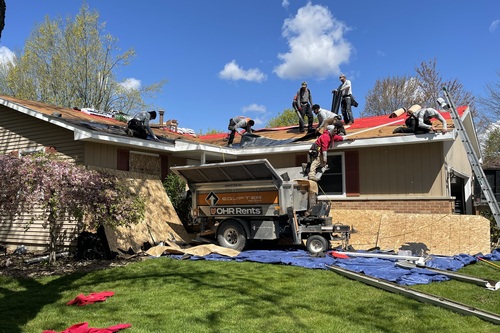 Did a recent storm damage your roof?
Not sure about the best course of action?
Unexpected roofing issues can happen at any time, causing stress for you and potential damage to your home. Knowing how to handle these situations can help reduce further damage and get your roof back in shape more efficiently.
Here are a few tips for handling roof damage, including the first actions to take when you notice something wrong.
Immediate Actions to Take
Assess the Situation: Safely inspect the problem area to evaluate the extent of the damage. Look for loose or missing shingles, leaks, or any other visible issues.
Temporary Repairs: If it's safe to do so, perform temporary repairs to prevent further damage until a professional arrives. Use tarps or plastic sheeting to cover leaks or exposed areas.
Clear the Surrounding Area: Remove any valuable items and furniture to protect them from potential water damage. It's also important to create a clear and safe space for the repair process.
Turn Off Electricity: If you notice leaks near electrical outlets or appliances, turn off the power in that area to prevent potential hazards.
After Immediate Action has Been Taken
Contact the professionals - Handling roofing issues requires professional expertise. Professionals are trained for safety, they know how to perform timely repairs, they're insured, and the best ones offer quality warranties. Performing roofing repairs on your own could further damage your home and put your safety at risk.
Document the Damage - When unexpected roofing issues occur, it's important to document the damage thoroughly for insurance purposes. Be sure to take clear photos from several angles. These can serve as valuable evidence for your claim if you choose to make one.
Do you need help financing your repair? Click here to learn about our financing options.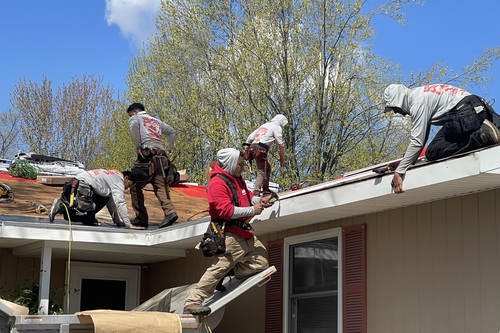 Residential Roofers in Ann Arbor Offer Immediate Assistance
Is your roof in need of immediate repair?
Unexpected roofing repairs are stressful, but take immediate action to prevent further damage to your home before the professionals arrive.
Contact our residential roofers in Ann Arbor for your emergency repairs at (734)662-3300.